The Bicycle Wheel Bag is made of durable, water resistant 600 Denier Polycanvas with heavy-duty, nylon zippers for quick and easy opening and closing. The bag aids in the prevention of corrosion caused by moisture, rain, snow, salt air, dust and pollution.
The Bicycle Wheel Bag
contours and completely encloses any bicycle wheel.
Designed for indoor and outdoor use (excellent for patio/balcony/office buildings, eliminate wall marks for room storage), The Bicycle Wheel Bag is perfect for short and long term storage or travel.
Three options available:
ROME WHEEL BAG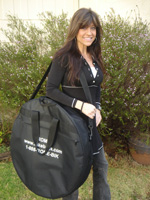 $35.99
Order Online
---
Homepage • Products • Reviews • About Us
Order Online • Dealer Information • Contact Us
© 2013 Rome Bike Bags. All rights reserved.
888-ROME-BIK • 888-766-3245
http://www.bikebags.com • rome@bikebags.com
site credits